Eagles' Brandon Graham Shares with Philly High School and College Athletes the Power of Choices in Sports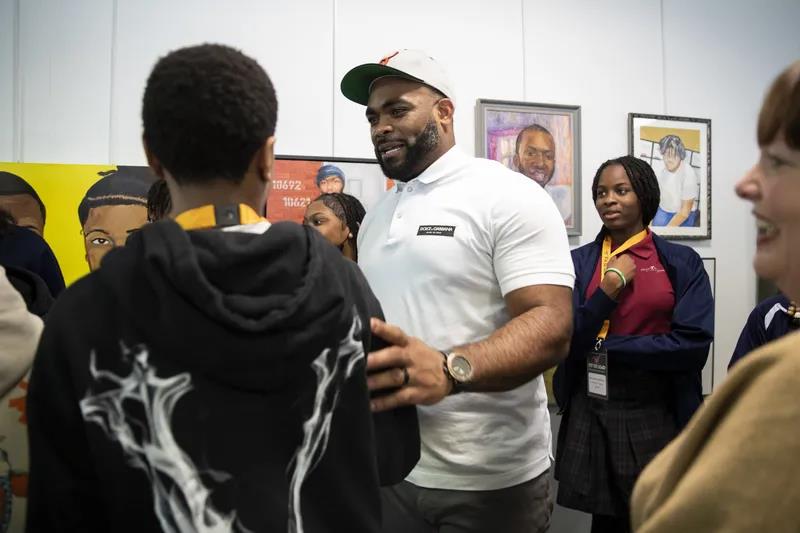 "It's all about how you talk to yourself, how you motivate yourself," the veteran DE told students at an Ed Snider Youth Hockey & Education "Fit to Lead" event on Thursday at Neumann University.
Published Mar 30, 2023
It can be easy in sports to get wrapped into your individual performance.
The Eagles' Brandon Graham realized that this past season. During the season opener against the Detroit Lions, the veteran defensive end was coming off the bench after starting for multiple years. He initially wasn't happy about it.
"I remember probably playing 15 snaps a game and I'm used to playing 30-35," Graham told a crowd of students at an Ed Snider Youth Hockey & Education event on Thursday at Neumann University. "That was so hard for me to want to celebrate with my teammates, knowing that my coach was playing with me. In my mind [I thought] he just played me.
"But I had to check myself; you got to be a team player; you got a lot of people looking up to you … I had to humble myself and be like, 'You're doing it for the team.' "
In that moment he knew he needed to put the team first over his personal goals.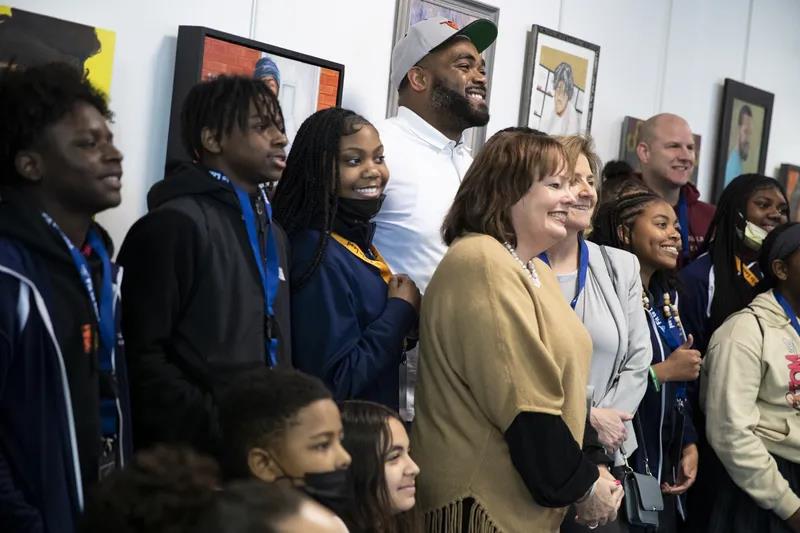 Graham recalled those times of selflessness, being a leader, and more during the "Fit to Lead" event held for about 250 athletes on the high school and college level from the Pennsylvania area. In November, the 34-year-old joined the board of directors of Ed Snider Youth Hockey & Education, a foundation built to educate and empower the Philadelphia area's underserved youth through ice hockey.
The one-day conference also featured other speakers, namely, Jordan Burroughs, a gold medalist at the 2022 World Wrestling Championships; Tamyra Mensah-Stock, who became the first Black woman to win a gold medal in Olympic wrestling in 2020; and legendary Temple lacrosse coach Tina Sloan Green. They shared their personal experiences about overcoming adversity and the mental pressures of the game.
A few sports psychologists were also a part of the conference. Mitchell Greene, who runs a practice in Haverford called Greenepsych, and his counseling intern Milly Routledge, led a conversation with students about athletes addressing self-doubt called "Managing Mind Chatter."
Graham, who will enter his 14th season in the league after agreeing to a one-year contract worth up to $6 million with the Eagles, spoke in a moderated conversation with NBC Sports anchor Amy Fadool about the power of choices. He mentioned the difficulties of social media, handling emotions, and the importance of believing in yourself.
In 2013, Graham's first year in the league, he suffered an injury that led many to consider him a first-round bust. It was difficult, Graham said, not reacting to people's negative comments about him on social media. But now, in a day and age, where mostly everyone has a social media platform, he learned to take time away from the apps, especially when it becomes a mental distraction.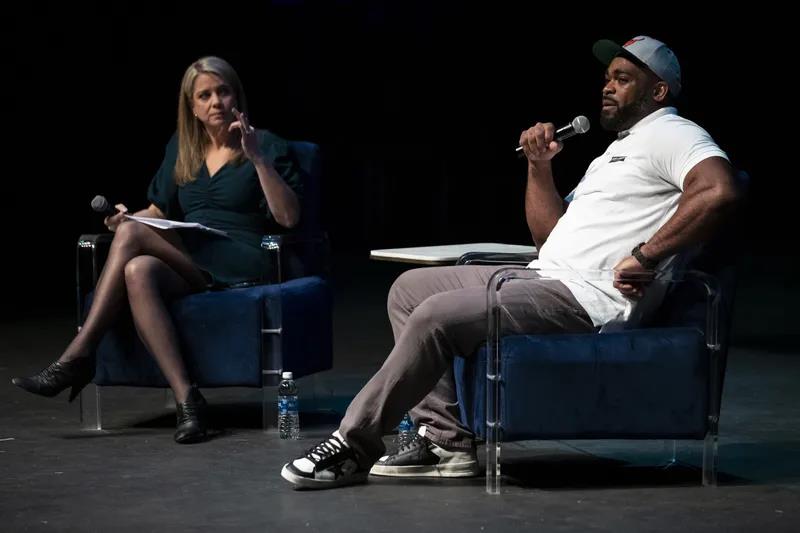 "It's all about how you talk to yourself, how you motivate yourself," Graham said. "Knowing the work that you put in, it's going to pay off somewhere. I'm telling you, it don't always pay off at the time you want it, but it's something that's going to pay off if you stay consistent."
Graham had a dream of finishing in double-digits sacks since entering the league, and this past season, while playing just 40% of the defensive snaps, he finished with 11 sacks.
He emphasized to the crowd before closing out the conversation that, "It's a daily walk with yourself."
"Make sure you take the emotion out of your decisions," Graham added. "The real win is winning for yourself."
Source: https://www.inquirer.com/eagles/brandon-graham-ed-snider-youth-hockey-education-foundation-student-athletes-leadership-20230330.html