Neumann University will build an on-campus hockey arena with its largest gift ever
An artist's rendering of the new ice hockey arena planned for Neumann University's campus. Neumann University has been offered a $15 million matching gift from Ed Snider Youth Hockey & Education to build an on-campus ice hockey arena for use by both its teams and the program, which serves disadvantaged teens in the Philadelphia region. Heckendorn Shiles Architects / Neumann University
The money comes from Ed Snider Youth Hockey & Education, which will use the facility for an expansion of its program.
by Susan Snyder
Philadelphia Inquirer
Published October 25, 2023
Neumann University has been offered a $15 million matching gift from Ed Snider Youth Hockey & Education to build an on-campus ice hockey arena for use by both its teams and the youth program, which serves disadvantaged teens in the Philadelphia region.
It's the largest single gift the Catholic university, based in Aston, Delaware County, has ever received, said its president Chris Domes. The university must raise the rest to build the new 98,108-square-foot arena, expected to cost about $35 million and open in 2026, he said.
The arena will be named for the late Snider, founder of the Philadelphia Flyers, and built on the north end of Neumann's campus, behind a turf field next to homes on Convent Road. The school must secure township approvals, Domes said.
The facility is to include two ice hockey rinks, one for use by Neumann's teams and the other by the Snider program, which wants to expand into the nearby Chester area. The youth program, founded in 2005, promotes health, wellness, education and life skills, using hockey as the hook.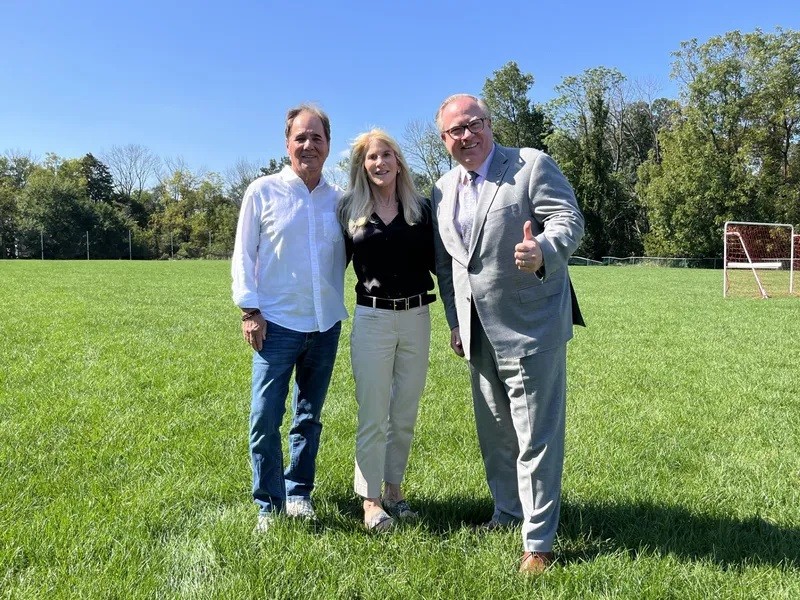 "It's a no-brainer for us, not only to be able to construct a rink at one of our partner institutions, but it's also located in an area where we feel we can really expand our services to include the city of Chester and the outlying area," said Scott Tharp, president and CEO of Snider. "We can serve so many more kids who otherwise wouldn't have an opportunity to have programs like ours."
It's the first on-campus arena the program is helping to build from scratch. Five years ago, the program gave $7 million to the University of Pennsylvania for renovations to its Class of 1923 Arena, which the program uses, Tharp said.
"We really discovered how much it enhances our programs to be able to bring our kids to college campuses," Tharp said. "You can't imagine the impact the program has on 14- or 15-year-olds. College was never in sight for them until you get them on a campus and they see college as a possibility."
At Neumann, Tharp said, he envisions holding summer camps on campus, with youth living in and using university facilities.
Domes said the Snider program mission aligns with Neumann's mission in serving students from lower-income families and helping with community needs. It also will be a plus for sports at Neumann, he said.
"We think bringing the sport onto the physical campus will be terrific for us and our student body," Domes added. "Hockey is a fun sport to watch and it will expose students who might not have had a chance to know much about the sport."
Ice hockey has become important to the university. It got its start 26 years ago with a men's team, which went on to become NCAA Division III national champions in 2009 — the only national title the university has ever won. A women's team was added in 2001.
About 90 athletes participate, with teams currently practicing and playing their games at a facility in the community, Domes said.
Neumann and Snider's relationship goes back almost a decade. In 2014, Neumann awarded its Sport, Spirituality and Character Development Award to the program, and in 2020, the program gave $500,000 to Neumann to support full scholarships including tuition, room and board for freshman and transfer students who completed its program. Fifteen program participants are currently enrolled at Neumann through the scholarship program.
And in 2022, Jasmine Martinez, then a Neumann senior and former program participant, was selected by the Flyers to announce the team's first draft pick on ESPN during the NHL draft in Montreal.
"If it wasn't for Snider, I wouldn't have a college education," Martinez told The Inquirer in a 2022 interview. "I wouldn't still be playing hockey today, still doing something I love, so I always look back and just appreciate all the support they had for me."
The program also last March held a leadership conference for more than 200 high school and college athletes, coaches and educators on Neumann's campus.
"Even though he's not here today, I think this would have delighted him," Lindy Snider, daughter of Ed Snider and a member of the Snider board of directors, said of her father in a news release. "This partnership is the perfect marriage."
The new facility will include seating for 750 on the university side, while the program's rink will seat 300. It will offer classroom space, locker rooms, training and treatment areas, kitchen and concession spaces, and a 7,000-square-foot lobby with seating, the school said.
Neumann hopes to generate revenue by renting the facility when it's not in use, Domes said.
Source: https://www.inquirer.com/education/neumann-university-ice-hockey-arena-ed-snider-youth-hockey-20231025.html